'Life is too short to enjoy & explore the beauty of the entire world!'
Bhutan's Quaint Gemstone!!
Aligned at a height of 2300 m, Trongsa sits in the central Bhutan which offers stunning views of the snow-capped mountain. In Bhutanese term, Trongsa means 'New Village'.
It is a historical place as most of the kings regulated their kingdom through the administrative seat of Trongsa in ancient times. Harboring clean streets with the white painted traditional houses, the location of Trongsa valley are spectacular.
'Its lush green flora creates a mesmerizing ambiance to surround your senses and simply meditate.'
Most Visited Places to Explore in Trongsa!!
Are you a nature lover? A history hunter too? Then you are in right place!
Trongsa is a charming town of Bhutan which is a unique blend of ancient history and picturesque vistas of nature. Amazing, right? Then go for most affordable Bhutan vacation packages to see most alluring places in Trongsa such as-
1. Trongsa Dzong
In #cold climes, the ⛅ becomes #Our #bestfriend!#sunlightfilteringthroughtrees #streamwithrocks #gushingwater #sunnybutwindy #dzong #trongsadzong #trongsa #Bhutan #letsgosightseeing #happyfeet #lifeoftravel #coupleswhotravel pic.twitter.com/agQoi7fZ8O

— Let's Go Sightseeing (@letsgosightsee) January 23, 2018
'Holding the Ancient History of Bhutan'
The Punakha Dzong might be the most beautiful Dzong in Bhutan but the Trongsa Dzong is the most magnificent. Built in 1644, the view of the Dzong is the first thing to greet you as you approach the Trongsa town.
Opening Hours- 6 am to 5 pm
Importance- Providing headquarters to the Trongsa district Government
No. of Monks present- 200
Things to see- Dzong architecture and the scenic view of the valleys from the fortress
2. Ta Dzong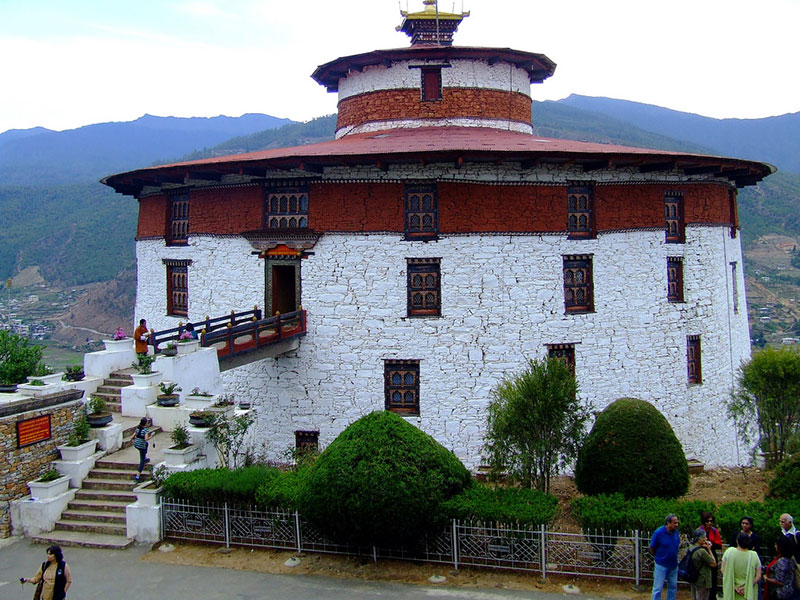 'Fascinating Museum of Bhutan'
Built-in 1652, Ta Dzong will surely leave you enchanted by its harmonious architecture. Ta Dzong along with its watchtower is upgraded into a museum for the public later. There are 5 floors and 11 galleries exhibit the beauty of this Dzong.
Opening Hours-9 am to 5 pm
Importance- A meditation practice is held here for the welfare of the whole district
Things to see- Bhutanese art, craft, and the biography of Guru Rinpoche
Entry Fee– INR 200 per person
3. Chendebji Chorten
Chendebji Chorten built in the 19th century near Trongsa #Bhutan #travel #lp pic.twitter.com/AgALWFnp6m

— Glyn Willett (@GlynWillett) November 25, 2014
'Offering Magical beauty'
You can explore this Chorten on the way from Thimphu to Trongsa. It bears resemblance to a stupa, Swayambhunath in the Kathmandu valley of Nepal. Boasting white-washed walls, Chendebji was built in the 18th century by Lama Zhida.
Importance– It is believed to cover the remains of an evil spirit which were incidentally subdued at this place.
Things to see- Prayer Hall & beautiful greenery surroundings
4. Thruepang Palace
#Thruepang palace# third king palace#Bhutan# pic.twitter.com/HnWYdTl1QX

— Bumpa Dema (@taradrolma91) October 4, 2014
'Birth Place of Bhutan's 2nd King'
Built in 1920, Thruepang Palace draws the attention of many visitors for being the birthplace of the king Jigme Dorji Wangchuk. With two storied building, this building looks more like a big house than a palace. The front courtyard of the palace is beautifully covered with a large green lawn and gardens which make the view of palace livelier.
Importance– The palace is used by the royal fam/pily on some occasions.
Things to see– Colourful paintings & Royal memorabilia
5. Semji Village
'A serene village with glorious beauty'
This village is the ideal place of excursion around Trongsa District of Bhutan. All the people of this village follow the ancient tradition as well as the culture of Bhutan. The natural surroundings form a peaceful environment for everyone. The villagers will welcome you with their warm-hearted greetings.
Importance– It will give you the opportunity to know about Bhutan's tradition.
Things to see– A wide variety of bird species
Things to do– Hiking & Bird Watching
Don't skip these above-mentioned places while in Trongsa for a family tour!
Popular FAQs-
Q. Which is the best time to visit Trongsa?
A. The best time to visit Trongsa is from December to February.
Q. Is there any festival organized in Trongsa?
A. Yes, a festival of Trongsa Tsechu is held for 5 days where you will have an opportunity to watch the popular mask dance of Bhutan.