Looking for an incredible place to chill outside India? Then you should stop at Paro in Bhutan!
Bhutan's Photogenic City!!
Surrounded by untainted wilderness and coniferous pine trees lining its meandering roads. It is the most picturesque town with lots of attractions and places to see. Paro in Bhutan is valley is surrounded by tranquil Paro River (Pa Chu) which flows down it.
From historic fortresses, sacred sites of monasteries, to pretty views of apple orchards, Paro is sure to leave you enchanted!
Getting Paro…
By Air: If you are traveling from India, there is one and only entry is by air through Paro by flight. You can board a flight from your nearest town to Paro International Airport
By Rail: The nearest railheads are Hasimara Railway station and New Jalpaiguri Railway station. And from there you will get several hired taxis to reach Paro via Phuentsholing.
Get the most affordable Bhutan tourism packages from India for a hassle-free trip with your family or friends for Paro travel.
Picturesque Places to Visit in Paro!!
Soak in the stunning sights, engage with the locals, and fairy-tales stories about Paro, everything will give wow moments for sure!
Here is all tourist attractions of Paro that you can explore here:
1. Tiger's Nest Monastery-'Most Iconic Monastery in Bhutan'
Last focus on #Bhutan : the Tiger's Nest Monastery 🇧🇹
•#buddhism #travelblog #asia #travelawesome #welivetoexplore… pic.twitter.com/Uyd2zY3aoG

— Mes Petits Carnets (@petits_carnets) January 30, 2017
Perched at an altitude of 3,120mt on the cliff, Tiger's Nest Monastery is the famous Buddhist temple in Bhutan. It is believed that Guru Rinpoche was coming to this place on the back of a tigress and meditated at this place. Hence the name is Tiger's Nest.
Best Time to visit: March-September
Activities: Meditation and trekking
Tip- A special permit is required in advance to enter the monastery
Opening hours: 8 am-1 pm and 2 pm-5 pm
2. Rinpung Dzong- 'Holds an intricate wooden design'
Now this lighting, I totally approve! 😊 #magicalParo #RinpungDzong #Bhutan #grateful pic.twitter.com/1CpgC5LSn5

— Kuenga Wangmo (@kuengawangmo) November 8, 2016
Built-in 1646 by Shabdrung Ngawang Namgyal, Rinpung Dzong is another popular place to explore in Paro. Overlooking Paro town, Rinpung Dzong with its elegant structure will surely blow your mind.
Best Time to visit: October-March
Opening hours: 8 am to 4 pm
Specialty: Popular in Tsechu dance
Tip: You must require a special permit to watch the glimpse of beautiful dance.
3. Drukgyel Dzong-'Fortress of Victory'
#MorningViews from #Drukgyel. Stunning! #DrukgyelDzong #MountJomolhari #Jomolhari #Paro #Bhutan #travel #views pic.twitter.com/62CFDqgffC

— barefoot jules (@BarefootJules) September 30, 2018
Built in 1649, Drukgyel Dzong is the most eye-catching archeological sites in Bhutan. In 1951 this Dzong got burned by fire. Later, The Dzong was recommended as the symbol of the country's sovereignty.
Best Time to visit: July to September
Specialty: Representing Bhutanese rituals
Activity: Trekking
Tip: If the weather is favorable, you will be lucky enough to explore the holy peak of Mt. Jhulomari in the backdrop.
4. Dungtse Lhakhang-'Sacred Temple with Magical Power'
Bhutanese man spinning prayer wheels at Dungtse Lhakhang in #Paro. It was built in 1421 by famous Tibetan lama-Thangtong Gyalpo #bhutan pic.twitter.com/uOJkT76Z2h

— Bhutan Pelyab Tours (@bhutantourplan) March 8, 2017
Your trip to Paro is definitely incomplete without visiting this Lhakhang. Lhakhang boasts 3 floors representing hell, earth, and heaven. It's amazing & ethnic architecture attracts many nature lovers.
Best Time to visit: September to March
Specialty: Paintings of Tantric Buddhist philosophy
Opening Hours: 9 am to 5 pm
Tip: Visitors should not make loud noises while coming to this place.
5. National Museum- 'Symbolize Country's ancient glory'
If you're hungry for more of Bhutan's myths, make your way to the National Museum of Bhutan. It is one of the charming educational institutes which keep the country's cultural inheritance intact.
Best Time to visit: September to March
Opening Hours: 9 am to 4 pm (except Monday)
Specialty: Paintings and 3-D stamps
Tip: Photography is prohibited.
6. Chele La Pass-'Highest Motorable Pass'
What a day! Drove to Chele La Pass (nearly 4,000 meters!) from #Paro and checked out Haa Valley from above, found the rare blue poppy (Bhutan's national flower) and got to try on traditional attire (Gho for men and Kira for women). Next up: the famous Tiger's Nest! 🇧🇹 #sp pic.twitter.com/UPvLMcMrvf

— Flo @ Yogawinetravel (@yogawinetravel) July 9, 2018
Situated at an elevation of 3,988 m, Chele La Pass seems to be a natural paradise for the tourists. This pass will give you the opportunity to witness the spellbound view of Mt. Jomolhari and Jichu Drake.
Best Time to visit: September to March
Specialty: Variety of flowers like Rhododendron and wild roses.
Activity: Trekking, Picnicking, and Mountain Biking
Tip: Don't miss the hundreds of amazing prayer flag fluttering in the wind.
7. Farm House-'Showcasing Bhutan's rustic Lifestyle'
Experience home-stay with us!
Phobjikha Farm house. #bhutan #Phobjikha #holiday #happiness #travel #homestay #farmhouse #people #culture pic.twitter.com/RistmMdagv

— Bhutan Delight Tours (@BhutanDelight) September 13, 2017
The best way to experience the indigenous Bhutanese culture is by exploring Bhutan's traditional Farm House. This farmhouse is decked in mesmerizing green grasses and vibrant flowers.
Best Time to visit: September to March
Note: All the Farmhouses were made of the same architectural pattern.
8. Airport viewpoint-'Bird's Eye View Point'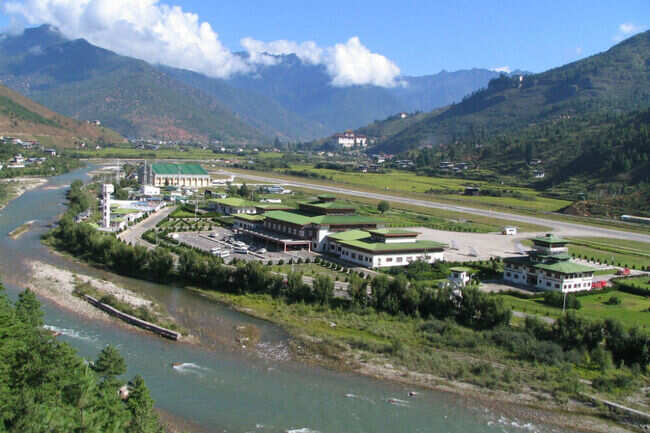 Everyone is not allowed to land an airplane at Paro, do you know that?
Yes, you read it right. Enjoy the spectacular sights as you land at this airport perched on the Himalayan ranges.
Tip: Visitors shouldn't miss the sight of the departing flights rising from the runway and touching the sky.
Yearning already to feast your eyes on those captivating vistas of Paro? Book one of the best Bhutan vacation packages to indulge in the serenity of the ancient monasteries and beautiful landscapes of Paro valley.